The Ultimate in High-End Door Protection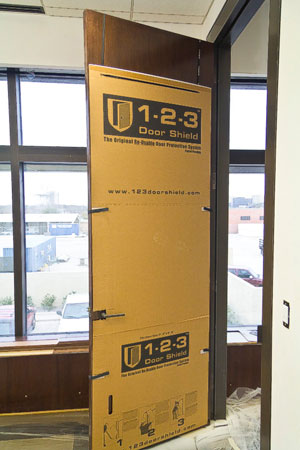 At Construction Protection Systems, we take damage during construction very seriously. Development of 1-2-3 Door Shield®, our premium door protection product, was a high-priority project for our founder for quite a long time. From his early days running large, commercial and institutional development projects, beginning in the late 1970s, he began to notice the haphazard and ineffective methods that had become status quo for protecting high-quality doors during the finishing stages of the construction process.
None of these do-it-yourself methods were effective, and most made the problem worse. After observing countless bad examples of door protectors, he decided to bring in the professionals and, relying heavily on his architectural and project management background, orchestrated a design team to find the right solution.
That's how the 1-2-3 Door Shield® door protection system came to be. 
Since that original prototype, Construction Protection Systems, LLC has tweaked and modified 1-2-3 Door Shield® to meet the demanding requirements of many of the ENR top 400 general contractors, who have become loyal customers. Whether your door protection requirements are typical or unusual, we will help you find a solution to damaged doors that is both affordable and effective.
In addition to producing cost-effective, purpose-built door protectors, we've made the sustainability of our products a top priority as well.
All of our 1-2-3 Door Shield® door protectors are produced in Denver, Colorado in partnership with a high-volume, independent corrugated fiberboard manufacturer. In fact, our manufacturing partner was one of the first independent packaging companies in the state to earn a Sustainable Forestry Initiative (SFI) certification. You can learn more about our sustainability initiative here.
These days, 1-2-3 Door Shield® comes in two distinct variations – the Protector Series and the 200 Series. 
The Protector Series was designed with the unique needs of commercial builders in mind, while the 200 series offers a lower-cost option for residential and home improvement markets. We can even work with you to customize 1-2-3 Door Shield® to fit doors of any size.
Since 1-2-3 Door Shield® was first created, we've had the pleasure of working with hundreds of contractors from all over North America, including nearly half of the ENR Top 400 general contractors.
Looking for a door protection solution of your own? Give us a call or contact us online to get started today.