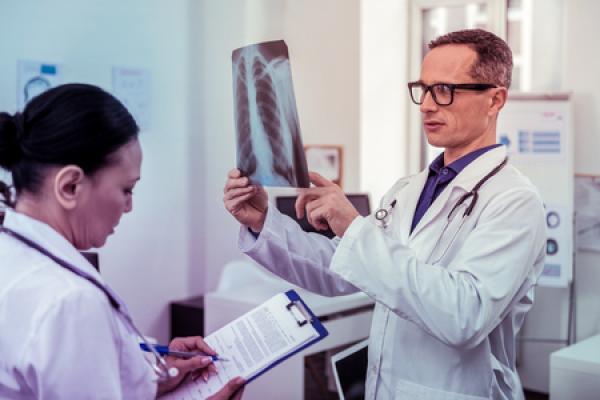 For a long time, the people of Southern Colorado had to travel up North to Colorado Springs or Denver if they needed any serious orthopedic work done. With the completion of Parkview Health System's Pueblo West Orthopedic Center last year, that journey is now considerably shorter. This comprehensive orthopedic facility offers patients in Pueblo and the surrounding areas consultation, surgery, and rehab all in the same building.
The Project Timeline
The new orthopedic center is located adjacent to the Parkview Emergency Services Building in Pueblo West. The project was announced in Jan. 2020 in conjunction with the construction of a new comprehensive cancer center, which was also recently completed. The COVID-19 pandemic delayed the groundbreaking to Nov. 2020, before related pandemic supply-chain issues delayed the competition of the project from spring to fall of 2022. JDC Architecture & Design created the design of the building while J.E. Dunn Construction Group led the construction efforts.
The New Facility
Parkview's new 58,000 square foot building cost more than $58 million in total. That money was well-spent in the form of a high-tech lab, six state-of-the-art operating rooms capable of providing high-definition video during surgery, pre-operation and recovery space, 29 patient rooms, rehabilitation space, 25 surgery prep bays, a full lab, a sterile processing area, and a pharmacy. These amenities grant the hospital the ability to host up to 4,000 to 5,000 orthopedic surgeries per year.
But it's not just about the quantity of patients the hospital can take on, the goal was also to provide a higher quality of care via the latest in medical technology. The video taken during surgeries can be broadcast on a live feed to a state-of-the-art classroom, allowing doctors to give instruction from across the building as students watch on a large screen. Meanwhile, the post-surgical exercise area is equipped with machines that will help joint replacement patients prepare to go home, including a mock car to help them re-acclimate to driving.
Loved ones of patients were not forgotten about either. The hospital has a café with both indoor and outdoor seating, comfortable waiting rooms adorned with the work of local artists, and a $600,000 outdoor wellness trail funded completely via donations.
At Construction Protection Systems, we're proud to have played a small part in development of the Parkview Health Systems Orthopedic Hospital. Stay tuned for more updates from the makers of 1-2-3 Door Shield—the original, reusable door protection system.