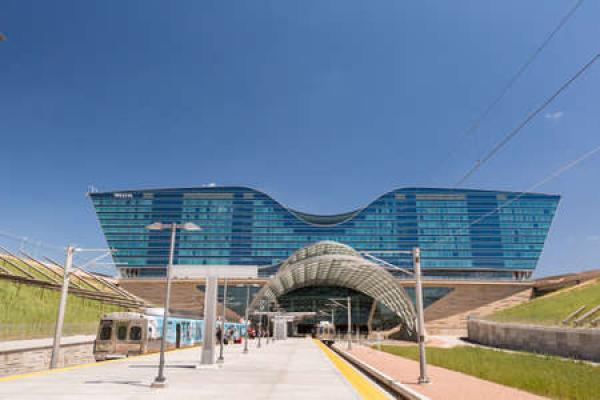 When an area experiences enough growth and increased traffic, there comes a point where its facilities are no longer sufficient, and expansion is necessary. This was the case for the Denver International Airport, which recently completed a project to open 16 new gates in Concourse C-East. This expansion will help ensure the airport is able to accommodate a growing number of passengers.
The Project
The airport added 16 gates to Concourse C-East as part of a $2.3 billion gate expansion program, increasing the size of the concourse by about 30%. The concourse, including the new gates, will now be roughly 1,155 feet long – the equivalent to more than five Boeing 747 jumbo jets.
The 530,000 square foot expansion includes new airline support areas, restrooms, nursing rooms, and 20 passenger waiting areas. There will also be an outdoor patio with a view of the prairie that will feature a pet relief area and outdoor seating around firepits, adding atmosphere as well as space.
The project also created room for eight new storefronts, including Aviano Coffee, Bar Dough, Black Canyon Market and Goods, Cholon Modern Asian, Long Peak Market and Goods, Marczyk Fine Foods, Mister Oso and Teatulia Tea, all of which have either already opened or will do so in 2022. Perhaps most importantly, these gates will make room for millions of new passengers to fly in to and out of Denver International Airport. The gates have all been leased by Southwest Airlines.
Holder Construction and FCI Constructors worked together to complete the project while Jacobs Engineering Group managed architectural and design services. The project was paid for through revenue bonds, not through tax dollars.
The Need for Expansion
Denver International Airport has seen major passenger growth over the past quarter-century or so. In just 27 years, passenger volume grew from 33.1 million passengers to more than 69 million. While the COVID-19 pandemic put a dent in that total over the past two years, DEN has been among the fastest recovering airports.
This increase in passengers is at least partially due to the overall rise in U.S. air traffic, but likely also has to do with the growth of Denver itself. The population of the City of Denver grew more than 53% from 1990 to 2020 and is now more than 715,000. The greater Denver Metro area that the airport serves now has more than 3 million people.
Denver International Airport was originally built to handle a maximum of 50 million passengers annually. Further growth beyond that number would have implied crowded restaurants, long lines, a log jam of flights and more. The goal is to alleviate all of those issues via expansion.
What's Next?
The Concourse C expansion was part of a larger gate expansion project that has been ongoing since 2018 and is scheduled to be completed by the end of this year. Four new gates were opened in Concourse B-West in November 2020. Currently, a project adding seven new gates in B-East and 12 in Concourse A-West is underway, with a scheduled end date in the fall of 2022.
These projects will feature similar facility upgrades to the ones in the Concourse C Project, including at least one outdoor deck in each concourse. The goal is for these new gates to not only accommodate more domestic traffic, but also more international flights.
At Construction Protection Systems, we're proud to have played a small part in development of the Denver International Airport Concourse C Gate Expansion. Stay tuned for more updates from the makers of 1-2-3 Door Shield—the original, reusable door protection system.