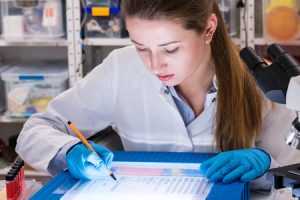 Law enforcement agencies in Georgia's Coast Plains region will spend less time waiting for forensic testing results, thanks to a new crime laboratory operated by the Georgia Bureau of Investigations (GBI) that recently opened in the city of Pooler. The 64,000-square-foot facility will replace an existing lab in nearby Savannah that is more than 30 years old and roughly one-third the size of the new lab.
"Our goal is to seek the truth, and this will help us get there," said GBI Director Vic Reynolds during the crime lab's ribbon cutting ceremony.
While the GBI's old crime lab in Savannah could accommodate only 26 employees and two doctors, the new lab has enough space for up to 70 employees and five doctors. This added room for growth will allow the GBI to serve local law enforcement agencies more efficiently now and well into the future. According to Governor Brian Kemp, the facility is designed to last "50 years, or so."
In addition to doubling the capacity for GBI staff, the new crime lab will be able to perform toxicology tests that couldn't be conducted in the old facility. These tests are designed to measure and analyze the presence of drugs, alcohol or poisons in a person's body. Prior to the opening of the crime lab in Pooler, toxicology tests had to be sent further away to GBI locations in Augusta and Decatur.
"This is a great day for law enforcement," said Georgia State Patrol Colonel Mark McDonough in a statement. "It gives us access to crime lab specialists who can do those tests, can testify to the results of them."
Pooler Mayor Mike Lamb, meanwhile, noted that the GBI crime lab will not only speed up forensic investigations in the region, but also create new jobs for area residents.
At Construction Protection Systems, we're proud to have had an opportunity to play a part, however small, in the development of this valuable law enforcement facility. Stay tuned for more updates from the makers of 1-2-3 Door Shield – the original, reusable door protection system.