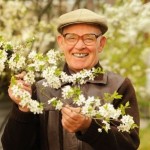 What do you envision when you hear the words "retirement community?"
For many of us, nondescript condominiums and roads built for golf carts are likely the first things to come to mind. Aside from the occasional plastic philodendron tucked away in a corner, we can reasonably expect these places to be more or less devoid of plant life.
At Medford Leas in New Jersey, however, residents are treated to a wholly different experience. Nestled in the heart of the Medford Leas Nature Preserve and Barton Arboretum, this retirement community is home to 600 retirees and over 200 acres of public garden space.
According to online publication My Central Jersey, "The mission of the arboretum is to promote the appreciation and knowledge of horticulture and to emphasize the importance of integrating nature into people's living, working and recreational environments." Medford Leas also aims to uphold principles of environmental sustainability in order to ensure that the comfort of its residents doesn't come at the expense of the local ecosystem.
The community was founded in 1971 by The Estaugh, a non-profit organization affiliated with the Quaker Church. Over the course of its 40 year history, Medford Leas has established nearly 100 committees, many of which focus on environmental education and stewardship. These include 20 horticulture committees, a bird watching committee and an apiary committee.
In an interview with My Central Jersey, Jack Carman, designer of the Back Porch Garden at Medford Leas, explains that, "Nature-based research is growing and continues to show that exposure to nature lowers blood pressure, reduces stress, increases attention, creates a reduction in pain and decreases agitation."
Here at Construction Protection Systems, we're proud to have had the opportunity to make a contribution, however small, to the tranquil community of Medford Leas.
Stay tuned for more updates from the makers of 1-2-3 Door Shield – the original, reusable door protection system.