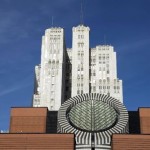 In May of 2013, the San Francisco Museum of Modern Art closed its doors and broke ground on an ambitious expansion that would more than double its exhibition space. Now, more than two years later, the museum is nearly ready to welcome visitors once again.
This project has been unique in a number of respects. When museums expand, they typically remain open or move their exhibition space to a temporary satellite location in order to maintain their flow of revenue from membership and admission fees. Because of the extent of the renovation and the high cost of real estate in the city, the San Francisco MOMA didn't have this luxury. The building's construction has also been challenging for the developers due to space restrictions that have made it difficult to stabilize cranes and move materials.
Once completed, the ten-story addition will house much of the museum's permanent collection which has grown exponentially in recent years thanks to generous private donations. In addition to exhibition space, the expansion will also include roughly 15,000 square feet of free-access public spaces for patrons to enjoy. In total, the cost of the project is estimated at $610 million.
The structure, which incorporates innovative eco-friendly features such as gray water recycling and a vertical garden, was designed with LEED Gold certification in mind. Designers also made sure to include plenty of opportunities for visitors to take in the scenery of the surrounding city. A terrace on the seventh floor will offer patrons panoramic views of the city skyline and the San Francisco Bay.
The construction is slated for completion in late October, 2015, and the museum will officially reopen in early 2016. Here at Construction Protection Systems, we're proud to have played a part, however small, in the completion of this monumental undertaking. Stay tuned for more updates from the makers of 1-2-3 Door Shield – the original, reusable door protection system.