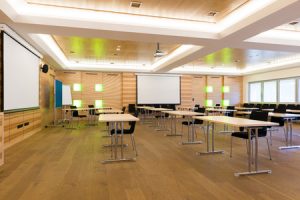 Just in time for the school's 50th anniversary, Texas A&M International University (TAMIU) in Laredo hosted a dedication ceremony for its state-of-the-art Academic Innovation Center (AIC) in late August, 2019. The innovation center, which has been under construction since 2016 under the guidance of Bartlett Cocke General Contractors, is home to new 21 educational labs and classrooms as well as faculty and staff offices.
The three-story, 500-foot-long building features more glass than any other building on campus, ensuring that "90% of the AIC space is bathed in natural light," according to TAMIU president Dr. Pablo Arenaz. The west side of the innovation center incorporates several architectural elements from the original campus, such as limestone accents, hip-roofs and natural finishes in marble and cherry wood. The building's east side, meanwhile, embraces a more contemporary design consistent with modernist architecture of the mid-20th century.
"It's a remarkable structure that truly advances how we define learning at TAMIU," said Dr. Arenaz during the dedication ceremony. "Technology is integrated throughout the entire building with teaching walls, while the classroom architecture itself is flexible to encourage collaboration."
According to TAMIU Director of Public Relations, Marketing and Information Services Steve Harmon, the AIC will primarily serve as a collaborative learning space for the school's STEM and engineering programs.
"We really needed to have a space that was really dedicated to STEM and that allowed lots of opportunities for people to work together," said Harmon in an interview. "there's just technology integrated throughout the whole complex."
You can take a virtual tour of the Academic Innovation Center in the video below!
Here at Construction Protection Systems, we're proud to have had the opportunity to play a part, however small, in the development of this innovative new building on the campus of Texas A&M International University. Stay tuned for more updates from the makers of 1-2-3 Door Shield – the original, reusable door protection system.