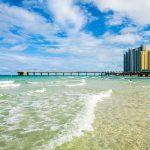 When The Surf Club Resort in Miami Beach first opened its doors in 1930, it soon became well-known as a popular destination for some of the most famous Hollywood stars of the Golden Age of American cinema. Over the course of the next several decades, the resort attracted pop culture icons, business magnates and even heads of state to the sandy shores of South Florida. Frank Sinatra and Ava Gardner visited the resort on their honeymoon. Winston Churchill rented two cabanas at The Surf Club—one for painting, and one for napping. Even during prohibition, the bar at The Surf Club remained stocked with fine liquor thanks to rum runners from Cuba and the Bahamas.
Now, after being purchased by Four Seasons Hotels and Resorts, the historic Miami Beach property has gotten a new lease on life thanks to an extensive five-year redevelopment project that added two 12-story condominium towers, a 72-room hotel, two restaurants, four swimming pools, and more. The project was designed by Pritzker Prize-winning architect Richard Meier of New York.
The Surf Club looks distinctly more modern under its new moniker as Four Seasons Surfside, but its designers were careful to preserve the resort's original 1920s Mediterranean aesthetic as well. The new residential buildings flank the original Surf Club property, which has been beautifully restored to its former glory. The interior design of the old hotel was completed by renowned Parisian architect Joseph Dirand.
Here at Construction Protection Systems, we're proud to have had the opportunity to play a part, however small, in the revival of this iconic Miami Beach property. Stay tuned for more updates from the makers of 1-2-3 Door Shield—the original, reusable door protection system.