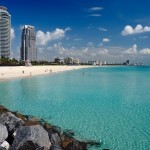 The Faena District is an ambitious $1 billion luxury residential and retail project that spans a full six city blocks in Miami Beach. Once it's complete, the massive complex will be home to a shopping mall, 169-room hotel, and multi-million dollar condos. At the heart of the Faena District lies a symbol of an earlier period of wealth and prosperity in Miami Beach: the Saxony Hotel.
When it was built in 1948, the Saxony was one of the first luxury resort hotels in Miami Beach. The Saxony was a vision of opulence, and an inspiration for many of the other luxury hotels that would later come to occupy the sandy shores of Miami. In its heyday, the Saxony boasted the finest amenities of the era including an Olympic-sized swimming pool, private beach, tennis courts and air conditioning. In fact, it was the first air-conditioned hotel in Miami Beach!
When the hotel originally opened, real estate analysts estimated that each room cost roughly $21,000 to build. In today's dollars, that equates to a cost of nearly $200,000 per room. The Saxony was nicknamed the "Ivory Tower" by locals for the hotel's high-end rooftop nightclub
Today, thanks to the joint efforts of Argentine real-estate developer Alan Faena and Ukrainian-born businessman Len Blatavatnik, this Miami Beach landmark is getting a new lease on life. Here at Construction Protection Systems we're proud to have had a part, however small, in the restoration of this iconic Miami Beach hotel.
Stay tuned for more updates from the makers of 1-2-3 Door Shield – the original, reusable door protection system.