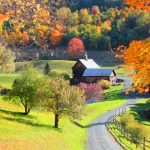 Tucked away in the foothills of the Green Mountains in eastern Vermont, visitors have come to the Woodstock Inn & Resort to get away from the stresses of everyday life for more than a century. Throughout much of the 20th century, the idyllic vacation destination was owned and operated by none other than Laurance Rockefeller. When the Rockefellers sold the RockResorts brand in the 1980s, the family set up a non-profit organization to preserve the Woodstock Inn & Resort, which they were particularly fond of.
Now, more than 40 years after the Rockefellers entrusted their favorite weekend getaway to the non-profit Woodstock Foundation, the Woodstock Inn & Resort has undergone an extensive renovation designed to preserve the historic property for the future. The primary goal of the renovation was to accentuate the Federal style design elements of the Inn that are characteristic of the period in which it was originally built. The renovations focused primarily on the lobby, library and the exterior entry area.
Improvements to the property include the addition of Federalist Era antiques to bedrooms and common areas, redesigned landscaping features that offer a better view of the Inn's entryway and a host of new artwork including a restored portrait of Laurance Rockefeller from his time as a lieutenant commander in the U.S. Navy.
"The result of these enhancements was to align the resort more closely to its Federal heritage and the beauty of Woodstock," said project designer Paul Duesing in an interview. "As guests arrive and enter the Inn itself, they will be welcome as if they are in a classic New England home, with a warm, inviting ambience in the lobby that really serves as a living room for the community."
At Construction Protection Systems, we're proud to have had the opportunity to play a part, however small, in the restoration of this beautiful historic property. Stay tuned for more updates from the makers of 1-2-3 Door Shield—the original, reusable door protection system.