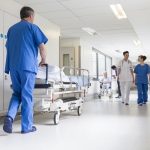 As the home of one of the only two Level 1 trauma centers in the state, Froedtert Hospital has played an important role in Wisconsin's healthcare system since it first opened in 1980. It is also the primary teaching hospital for the Medical College of Wisconsin. Over the course of the last decade, Froedtert Hospital has undergone an extensive expansion project which culminated in the construction of a 12-story Center for Advanced Care which was completed in October 2015 at a cost of $140 million. Prior to that, the hospital also added a $95 million cancer center in 2008.
Now, less than two years after work on the Center for Advanced Care was complete, Froedtert Hospital has received approval for a four-story addition to the building which is expected to cost an additional $43 million. In fact, the building was originally constructed with this four-story addition in mind. It will add roughly 165,000 square feet to the Center for Advanced Care, and allow Froedtert to accommodate anticipated increases in inpatient volume in the future.  The original, 12-story section of the building includes a variety of healthcare facilities including a transplant center, heart and vascular center and surgical specialties clinic.
"The Center for Advanced Care was designed to accommodate vertical expansion of four additional floors," said Froedtert Media Relations Associate Nalissa Wienke in a statement. "Providing for additional floors while construction of the new building was underway was a cost-effective way to allow for future growth and avoid the much higher cost of separate construction."
Here at Construction Protection Systems, we're proud to have had the opportunity to play a part, however small, in the ongoing growth and development of Froedtert Hospital. Stay tuned for more updates from the makers of 1-2-3 Door Shield—the original, reusable door protection system.