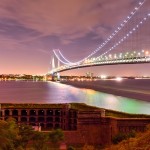 Two years ago, the 1600 block of Lamberts Avenue in the Graniteville neighborhood of Staten Island was little more than a vacant lot and makeshift landfill. Today, it's the site of Staten Island's newest luxury townhome community. Completed late last year, Lamberts Path has transformed a long-neglected nine-acre tract of land into a comfortable, attractive place for New Yorkers to raise a family. The project's construction was managed by the Brooklyn-based firm Farr Properties LLC.
According to the community's website, Lamberts path offers "serenity and convenience, a blend that young professionals and families yearn for." The single-family units in Lamberts Path, which start at around $400k, were designed to strike a balance between luxury and affordability. Townhomes are available in four distinct floor plans, one of which features a finished basement apartment for guests or tenants.
Located near two major commuter thoroughfares – Routes I-278 and 440 – Lambert's path provides residents with easy access to both New Jersey and Manhattan. Local landmarks in the vicinity of Lambert's Path include the Staten Island Zoo and C.U.N.Y. Staten Island.
You can watch the progression of Lamberts Path from an empty lot to a thriving suburban community in the video below.
Here at Construction Protection Systems we're proud to have had the opportunity to play a part, however small, in the revitalization of this property on Staten Island. Stay tuned for more updates from the makers of 1-2-3 Door Shield – The original, reusable door protection system.