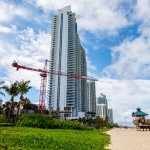 The face of North Miami Beach is changing. Recently, developers have begun purchasing large plots of inexpensive land in the blue collar neighborhood and revamping them with high-rise residential and mixed-use buildings. One such project is the Marina Palms Yacht Club & Residences at 172nd Street and Biscayne Boulevard. Construction at Marina Palms began in February of last year, and is due to be finished by the end of 2016. According to The Real Deal, this is the first luxury condo development with a yacht club and marina built in Miami-Dade County in more than 20 years.
Once it's complete, the 468-unit complex will be the most expensive residential building in North Miami Beach. It will occupy two 25-story towers that flank a dock capable of housing 112 boats up to 100 feet in length. Unit prices begin at around $800,000. One 4,300 square-foot penthouse sold for a whopping $4.3 million last year. Residents of Miami Palms will have the opportunity to enjoy a diverse selection of luxury amenities including butler service, a spa, infinity edge pool and gated access with 24-7 valet service.
Completion of the project might still be months away, but Curbed Miami is reporting that the units are already 90 percent sold out. The only residences that have yet to be sold are in the south tower which is still under construction.
Here at Construction Protection Systems, we're proud to have had the opportunity to play a part, however small, in this exciting new phase of growth in North Miami Beach. Stay tuned for more updates from the makers of 1-2-3 Door shield – the original, reusable door protection system.