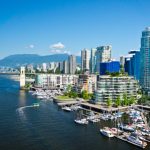 Downtown Vancouver is the new home of an "international entertainment destination" that constitutes one of the largest construction projects the city has seen in decades. Located next to the BC Place Stadium, Parq Vancouver is a sprawling urban resort that includes two luxury hotels with more than 500 rooms, a casino with 600 slot machines and 75 tables, and a 30,000-square-foot rooftop park that sits six floors above street level. Jan Zeschky, a journalist at the Vancouver Courier, described the scale of the resort as "staggering."
Parq Vancouver also features more than 60,000 square feet of event space, a spa, and eight different restaurants that serve everything from traditional pub faire to high-end steak and seafood. It's even home to the largest ballroom in Western Canada, which can accommodate more than 1,500 people. The list of amenities at Parq Vancouver is virtually endless, but the resort's developers hope the space will encourage guests to get out and explore the city of Vancouver as well.
"In Las Vegas, they keep everyone in a box," said Scott Menke, CEO of development firm Paragon Gaming in an interview. "We get to show off Vancouver in its finest form. We're so proud of Vancouver as a destination."
In stark contrast to the dimly-lit casinos in Las Vegas, Parq Vancouver's casino features huge exterior windows that bathe the space in natural light and make it feel more connected to the outside world.
At Construction Protection Systems, we're proud to have had the opportunity to play a part, however small, in the development of this massive new entertainment complex in Vancouver.  Stay tuned for more updates from the makers of 1-2-3 Door Shield—the original, reusable door protection system.