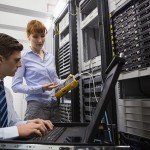 In January, 2015 Penn State Hershey broke ground on a $54 million data center devoted to advancing medical research and improving patient care. Then, just two months later, the largest university in Pennsylvania announced that it had plans to build another even bigger data center at its flagship campus, University Park.
This two-story, $58 million facility will serve a 1.75 megawatt load with room for an additional 1 megawatt of growth. The site can also be expanded to accommodate an impressive 8 megawatt load in the future if necessary. To put this kind of energy load in perspective, the power supply in your home's desktop computer probably tops out at a meager 400-500 watts. So what does Penn State plan to do with all that power?
"State-of-the-art, high-performance computing and data storage are absolutely essential elements of any research-intensive university," said Vice President of Research Neil Sharkey in a statement in which he further added, "Advanced computational models employing big data are now commonplace across academic disciplines, with advances in virtually all fields dependent upon cyberscience."
In addition to raw computing power, The University Park Data Center's design is heavily focused on energy efficiency. A data center pulling a few megawatts of power generates a whole lot of heat, and it can take almost as much power to keep computing components cool. That's why engineers developed an innovative three-stage cooling process to reduce the amount of energy it takes to regulate the temperature in the new facility.
First, heat exchangers continuously circulate indoor air to minimize heat buildup. Then, water is sprayed onto the heat exchangers to reduce the initial temperature of the incoming air. Finally, a third mechanical cooling system using a series of compressors will provide supplementary cooling in case temperatures exceed acceptable limits. On average, data centers operate at a power usage effectiveness (PUE) of about 1.7. An inefficient data center might operate closer to 3.0 PUE. The University Park Data Center, on the other hand, is projected to operate at just 1.19 PUE.
Here at Construction Protection Systems we're proud to have had the opportunity to play a part, however small, in the development of this powerful research tool. Stay tuned for more updates from the makers of 1-2-3 Door Shield – the original, reusable door protection system.