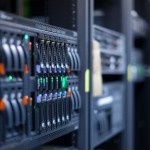 In July of 1990, a massive hail storm suddenly descended on Boulder, Colorado. Baseball-sized hunks of ice totaled cars and caused extensive roof and window damage to homes in the area. Storms like this are rare, but they can be very costly and destructive. Because they're rare, scientists don't know much about how or why they form. Likewise, they're very hard to predict. Thanks to a supercomputer cluster at the University of Texas, however, meteorologists are now able to create detailed simulations of weather events that offer new insights into their formation and behavior. Rather than waiting around for the next freak hailstorm to hit Colorado, scientists can now study these phenomena in a virtual environment.
This is just one of the many applications of the Texas Advanced Computing Center (TACC) in Austin. Recently, students at the TACC's visualization laboratory used the supercomputers to create a detailed, interactive virtual tour of the surface of Mars. Meanwhile, another team of researchers is using the TACC's Wrangler supercomputer to unravel the mysteries of the elusive "dark energy" that pervades the universe.
The TACC is maintained through a joint effort between the University of Texas at Austin and the National Science Foundation. Since it was founded in 2001, the TACC has made numerous contributions to a variety of research fields. According to their website, the center's mission is to "enable discoveries that advance science and society through the application of advanced computing technologies."
Here at Construction Protection Systems, we're proud to have played a part, however small, in the development of the new home for this remarkable research tool. Stay tuned for more updates from the makers of 1-2-3 Door Shield – the original, reusable door protection system.