The Salt Lake City International Airport is currently undergoing a massive redevelopment effort that airport officials are calling "The New SLC." The airport has significantly outgrown its current facilities, which were designed in the 1960s to accommodate less than half of the 26 million passengers it now serves each year. Today, it's the 23rd busiest airport in North America.
Salt Lake City's new terminal complex will not only be much larger, but also more efficient and compliant with modern earthquake safety standards. The terminal's designers expect to obtain LEED Gold certification from the U.S. Green Building Council, and they've even developed a plan to make the facility generate as much power as it uses.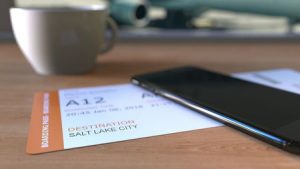 It's also interesting to note that no tax dollars are being used to fund the $3.6 billion redevelopment project. Instead, it's being funded by a combination of federal grants, airport reserves, revenue bonds and user fees.
Now, with just one year left until The New SLC is slated to open, the airport's massive terminal and south concourse are nearing completion.
The New SLC's baggage system is already in place, according to local CBS affiliate KUTV, and the jetways that will guide passengers from the concourse to their flights are in the process of being installed. A number of escalators, elevators and moving walkways are being installed throughout the terminal and south concourse as well.
Other quality-of-life improvements at the airport include new parking facilities and upgraded bathrooms with two separate sections that allow them to be cleaned without being closed completely. The exterior of the terminal, meanwhile, was designed to mimic the scenic desert landscape of Utah.
You can get a first-hand look at the airport's progress in the time lapse video below!

The new terminal and concourse are scheduled to open on September 15, 2020 but work on The New SLC won't be done just yet. Additional renovations on the airport's three existing concourses are expected to continue until 2022.

Here at Construction Protection Systems, we're proud to have the opportunity to play a part, however small, in the ongoing redevelopment effort at the Salt Lake City International Airport. To learn more, stay tuned for the latest updates from the makers of 1-2-3 Door Shield® — the original, reusable door protection system.