The University of Georgia's Terry College of Business is one of the most well-known and renowned business programs in the country. It's why, six years ago, university leaders decided that it was time for a proper community that could foster intellectual growth. UGA's Business Learning Community will do just that. Completed in July of 2019, the Business Learning Community has been time and effort well-spent.
About the Project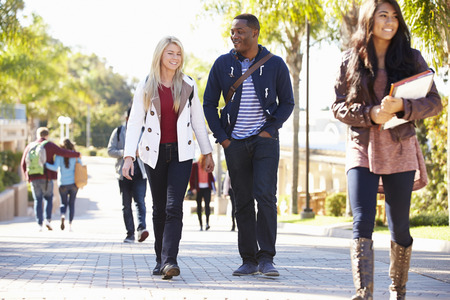 The construction for the Business Learning Community first started in 2014, but the idea began in 2013. The purpose, school officials said, was to transform the Terry College of Business by "creating a new learning environment…where students can gather, study, work on projects, interact with faculty inside and outside the classroom, and network with alumni and employers." The entire project (funded by both the state of Georgia and private donors) totaled $140 million, resulting in six new buildings that stretched across 300,000 square feet in the heart of the campus.
The project was divided into three distinct phases which took a total of six years to complete:
Phase 1: Correll Hall (2013-2015)
Correll Hall (named after alumni Alston D. "Pete" Correll Jr. and Ada Lee Correll) was the first building of UGA's Business Learning Community to be constructed and completed. With a total of 74,291 square feet, Correll Hall now provides a location for graduate studies and college administration. It has four stories that include 10 classrooms, an innovation lab, a graduate commons, project team rooms, interview rooms, student lockers, and communal spaces for the university community.
Phase 2: Amos Hall, Benson Hall, and Moore-Rooker Hall (2015-2017)
While Phase 1 stuck to just one building, Phase 2 included three, with Amos Hall in the middle and Benson Hall and Moore-Rooker Hall on either side. Each of the three buildings are five stories. On the bottom floors there are two auditoriums, eight classrooms, a capital markets lab, a music business lab, and (since this is a college campus) a bakery café. The upper floors house faculty and staff offices in addition to seminar rooms and project team rooms.
Phase 3: Ivester Hall and Sanford and Barbara Orkin Hall (2017-2019)
The final phase of the project wasn't as extensive as the previous, but it nevertheless included essential elements of the soon-to-be Business Learning Community. Ivester Hall and Sanford and Barbara Orkin Hall (named, as were the others, after alumni) are the first buildings to greet you as you enter the Business Learning Community. Both buildings house large auditoriums and classrooms, in addition to offices, labs, and seminar rooms. A few of these include a behavioral lab and the Simon S. Selig Jr. Center for Economic Growth. The two buildings also have a large outdoor space in front, now known as the Coca-Cola Plaza.
Completion
After Ivester Hall and Sanford and Barbara Orkin Hall opened in July of 2019. The six-year project came to a close. The last few months of summer included "landscaping, final touches and installing instructional technology in the classrooms." After this was completed, the entire Business Learning Center was then opened for students, faculty, staff, and alumni to enjoy during the Fall 2019 semester.
At Construction Protection Systems, we're proud to have had the opportunity to play a part, however small, in the development of the University of Georgia's new Business Learning Center. Stay tuned for more updates from the makers of 1-2-3 Door Shield—the original, reusable door protection system.