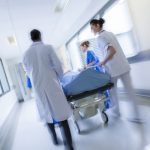 The largest hospital in Kansas City just got bigger thanks to a $360 million expansion that was completed in late 2017. Cambridge Tower A is a cutting-edge inpatient care facility that adds 92 beds and 11 operating rooms to the University of Kansas Health System. The 11-story tower also allows the hospital's entire oncology department to be housed under one roof for the first time.
"This is one of the most exciting times in my 21 years here," said Jeff Wright, vice president of cancer services in an interview. We've gotten used to saying we're at full capacity, trying to manage and discharge. This allows us to have access to health care services here to be able to expand our capacity."
In an effort to make the new facility as functional and efficient as possible, Cambridge Tower A was designed with ongoing input from the hospital's physicians, nurses and therapists. More than a year before construction began, hospital employees had the opportunity to tour full-size mockups of rooms in the tower and offer suggestions for improvement.
"I can't imagine building something as important as a new hospital without engaging an integrating staff clinical expertise into the design process," said Carol Cleek, a registered nurse and clinical sponsor of Cambridge Tower A. "They understand the patient and family needs, the workflows and the day-to-day hospital operations better than anyone."
At Construction Protection Systems, we're proud to have had the opportunity to play a part, however small, in the development of KU Hospital's largest expansion to date. Stay tuned for more updates from the makers of 1-2-3 Door Shield—the original, reusable door protection system.