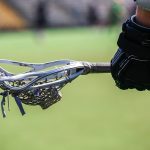 US Lacrosse was formed in 1998 following a merger of eight national lacrosse organizations, most of which were run by volunteers. Since then, the organizing body of American lacrosse has made great strides in their efforts to bring the sport to a wider audience and provide young athletes with opportunities to try it for themselves.
The organization has grown quite a lot since it was founded nearly 20 years ago, but it still relies heavily on volunteer efforts from devoted lacrosse fans.  Currently, US Lacrosse employs more than 80 full-time employees, and works with more than 300 volunteers engaged in various administrative capacities. Until earlier this year, US Lacrosse had occupied the same facility on the campus of Johns Hopkins University for its entire history.
Now, thanks to a huge fundraising effort that generated more than $14 million in private donations, US Lacrosse has a new home in the Baltimore suburb of Sparks, Maryland. At the heart of the headquarters lies a three-story 45,000 square foot building that houses office and meeting space, an education and training center, and locker rooms. Adjacent to the building is the William G. Tierney Field which the US National Teams Program will use for training. Later this year, a new National Lacrosse Hall of Fame and Museum will host its grand opening at the site as well.
Here at Construction Protection Systems we're proud to have had the opportunity to play a part, however small, in this remarkable grassroots effort to build a new space for the sport of lacrosse to grow in America. Stay tuned for more updates from the makers of 1-2-3 Door Shield – the original, reusable door protection system.