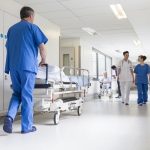 Thanks to Virginia Commonwealth University (VCU), residents of Mecklenburg, Lunenburg and Brunswick Counties in southern Virginia now have access to a new state-of-the-art medical facility. Located in South Hill—about 80 miles southwest of VCU's main campus in Richmond—the Health Community Memorial Hospital hosted its grand opening in October.
Prior to its official open date on November 11, local residents were invited to take self-guided tours of the hospital to acquaint themselves with its layout and services. The 166,700-square foot facility includes 70 private rooms, a cardiac catheterization lab and a 16-bay emergency department. It's also equipped with a comprehensive suite of diagnostic services, including MRI scans, CT scans and nuclear medicine. The hospital is expected to be a valuable new addition to a rural region that has lacked sufficient access to this type of healthcare facility in the past.
"The facility will be a beacon of hope for all who are in need of care, and it will be an anchor for future economic development for this region," said hospital CEO W. Scott Burnette in a statement.
Earlier this year, VCU joined the TriNetX Health Research Network as well. This partnership will allow the school and its hospitals to collaborate with other research organizations and biopharmaceutical companies from all over the world.
At Construction Protection Systems, we're proud to have had the opportunity to play a part, however small, in the continued expansion of VCU's healthcare services. Stay tuned for more updates from the creators of 1-2-3 Door Shield™—the original, reusable door protection system.