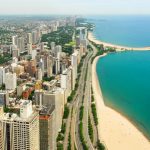 Based in Los Angeles, the Viceroy Hotel Group operates more than a dozen hotels throughout North America, Europe, Asia and the Middle East. Now, the company has added yet another hotel to its portfolio in Chicago's Gold Coast Historic District.
The Viceroy Chicago is a 180-room hotel with a whimsical atmosphere designed to "surprise and delight" its guests. Notable design features include a rooftop pool and a 30-foot-tall "poem wall" with selected passages of Marcel Proust's work. It also offers a number of unique services such as free weekly yoga and meditation classes that are open to the public.
The hotel's structure consists of an 18-story glass tower that rises from the original brick and terra-cotta façade of the historic Cedar Hotel. By combining these two distinct architectural styles, the Viceroy Chicago's designers aspired to create "harmony through contrast, in which both the old and new are rich examples of their specific eras."
In stark contrast to the Cedar Hotel's original façade, the tower of the Viceroy is distinguished by glass windows that intersect at angles to create a folding, rippling appearance. This hybrid structure produces a striking visual effect that demands attention. Rather than seamlessly blending the old with the new, the Viceroy Chicago celebrates the disparate styles of early 20th and 21st century architecture.
At Construction Protection Systems, we're proud to have had the opportunity to play a part, however small, in the rebirth of this historic Gold Coast property. Stay tuned for more updates from the makers of 1-2-3 Door Shield™—the original, reusable door protection system.